PISCINE INTERCOMMUNALE DU SAMMIELLOIS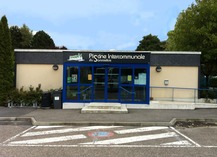 PISCINE INTERCOMMUNALE DU SAMMIELLOIS
https://www.cc-sammiellois.fr/piscine-_fr.html
The Sammiellois swimming pool in Saint-Mihiel has a large swimming pool for a few laps, a park with a terrace, deckchairs, a play area for children, etc.

Many aquatic activities are provided:
- Aquatonic courses
- Swimming courses and advanced courses at any age
- Initiation to rescue
- Swimming tests for the new school year
- Fitness sessions
- Slot for pregnant women
- Aquatic garden for the little ones
- Passing of sports cards over 25 to 1000 meters

The bathing cap is mandatory for all. Only the classic swimsuit is allowed.
CODECOM du Sammiellois
CODECOM du Sammiellois
CODECOM du Sammiellois
PISCINE INTERCOMMUNALE DU SAMMIELLOIS
Address :
Avenue Charles De Gaulle
55300 Saint-Mihiel
Phone :