Several famous writers fought and even died on our soil during the Great War. Follow in their footsteps and discover the lives and works of these WW1 writers.
Maurice GENEVOIX (1890 - 1980)
French writer and poet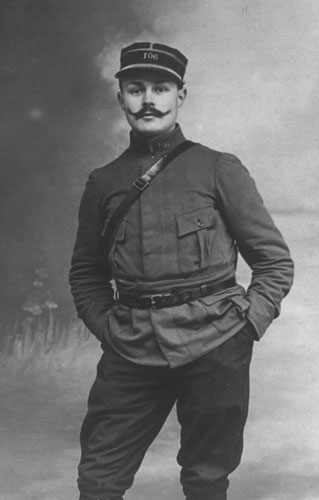 Being a student, Genevoix was mobilized in August 1914 and joined the 106th IR. He was retracted after being seriously wounded in April 1915. His literary career continued after the war and Genevoix received, among other prices, the Prix Goncourt for Raboliot in 1925.
He entered the Académie Française in 1946 and became its Perpetual Secretary in 1958. Together with Roland Dorgelès he created an alliance of war writers. He is also the founding president of the Verdun Memorial, which was inaugurated in 1967.
"Ceux de 14"
This story is based on Genevoix's combat experience, which he transcribed in war diaries that he kept up to date during the conflict. Ceux de 14 consists of a compilation of several writings on the subject, such as Sous Verdun (April 1916); Nuits de guerre (December 1916); Au seuil des guitounes (September 1918); La boue (February 1921); and Les Éparges (September 1921) of which the final uncensored edition was published in 1949. It is a major work in the war narrative that provides a better understanding of men and the conflict in which they have been involved.
Henri Alban FOURNIER dit Alain FOURNIER (1886 - 1914)
French writer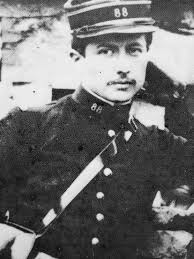 Alain Fournier was mobilized in August 1914 to join his regiment, the 288th IR at Mirande, where he was assigned to the 23rd Company. Fournier eventually joined the Lorraine front on 23 August as an infantry lieutenant and took part in three very deadly battles around Verdun. At the end of September, he disappeared during the combats of Les Éparges in the Saint-Remy-la-Calonne forest, on the ridge of the Hauts-de-Meuse. It later became known that he was killed along with his captain and several other men in his regiment on the afternoon of September 22, at the age of twenty-seven years.
His body was found and identified in a German mass grave years later, in May 1991. It was located just a few hundred metres from the Calonne trench, in a mass grave where the Germans had buried Fournier together with twenty of his comrades-in-arms. He was buried in the Saint-Rémy-la-Calonne military cemetery, his legacy one of the great classics of French literature Le Grand Meaulnes. Fournier's name appears on the walls of the Panthéon of Paris in the section of writers who died during the First World War.
Jean GIONO (1895 - 1970), French writer :
This author from the Provence fought in Verdun and Les Éparges.
Louis PERGAUD (1882 - 1915), French writer :
The author of La guerre des boutons died in April 1915 in Fresnes-en-Woëvre after being wounded in the Éparges sector.
Ernst JUNGER (1895 - 1998), German writer
In Stahlgewittern this German author recounts his experiences of the war, amongst others the combat of Les Éparges.
The Saint-Rémy-la-Calonne literary garden pays tribute to many soldiers/writers who fought in the French, German or Anglo-Saxon ranks during the First World War.