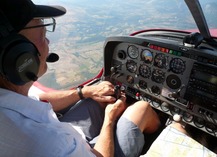 AEROCLUB DU SUD MEUSIEN
http://lfeu.fr/
The Aéro-club du Sud-Meusien at the aerodrome in Bar-le-Duc Les Hauts-de-Chée shares the joys of flying with visitors. An experienced, qualified pilot will take you up into the third dimension and show you the local area during a maiden flight lasting 15 minutes. If you choose a half-hour flight, you can learn the first rudiments of flying as you fly over the Renaissance district in Bar-le-Duc, the castles in the Saulx Valley, the Bar area, the wind farm, the high-speed train station, the Combles golf course and Lac du Der.
Flying school, maiden flights (15/20 mins), half-hour flights. 30-minute trip to learn the rudiments of flying.
Educational talks for children, on request.
Open days in June.
Maiden flights are available for disabled visitors.
Aeroclub sur meusien
Aeroclub sud meusien
Denis LOGEROT
Denis LOGEROT
Aeroclub sud meusien
AEROCLUB DU SUD MEUSIEN
Address :
Condé en Barrois
55000 Les Hauts-de-Chée
Phone :
03 29 77 18 30 06 07 21 31 78