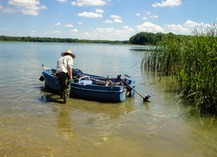 PÊCHE AU LAC DE MADINE
http://www.lespecheursdemadine.fr
Fishing is a major activity at Lake Madine where fishermen are welcome all year round. The waters are full of fish and the lake is remarkable for the catches you can make with its exceptional livestock.

Purchase of the fishing card at the Maison des Promenades in Madine - Nonsard or on the website www.cartedepeche.fr
Fishing card for a day, a week or a year.

Possibility to fish at night and rent an equipped boat.

Regulations and plans on www.lespecheursdemadine.com

Night carp fishing from April 1st to mid-October.
Pike fishing from May 7 to January 30.
CDT Meuse/Michel Petit
Madine
PÊCHE AU LAC DE MADINE
Address :
Maison de Madine
55210 Nonsard-Lamarche
Phone :
Spoken languages