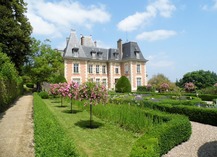 14 Rue du Château
Clos Raymond Poincaré
MUSEE RAYMOND POINCARE
http://musees-meuse.fr
The musée départemental is on the ground floor of the former summer residence of President Raymond Poincaré. It was built between 1906 and 1913 in a neo-Louis XIII style by an architect from Nancy, Charles-Désiré Bourgon.
Raymond Poincaré was born in Bar-le-Duc in 1860. He was a government minister six times and was President of France from 1913 to 1920.
The museum shows the amazing rise to power of this politician, lawyer and writer who left a profound mark on history.
No guided tours.
Musées de la Meuse
| | | |
| --- | --- | --- |
| Monday | 10h to 12h | 14h to 17h30 |
| Tuesday | - | - |
| Wednesday | 10h to 12h | 14h to 17h30 |
| Thursday | 10h to 12h | 14h to 17h30 |
| Friday | 10h to 12h | 14h to 17h30 |
| Saturday | 14h to 18h | - |
| Sunday | 14h to 18h | - |
| Prices | Min | Max | Description |
| --- | --- | --- | --- |
| Free | / | / | |
MUSEE RAYMOND POINCARE
Address :
14 Rue du Château
Clos Raymond Poincaré
55300 Sampigny
Phone :