RÉSERVE NATURELLE RÉGIONALE DE L'ÉTANG DE LACHAUSSÉE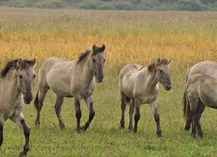 RÉSERVE NATURELLE RÉGIONALE DE L'ÉTANG DE LACHAUSSÉE
http://www.etang-de-lachaussee.com
Pond Lachaussée (300 ha) is located at the crossroads of a vast network of wetlands of major biological interest, labeled RAMSAR in the heart of the clay plains of the Woëvre. This pond has extensive reed beds and bushy areas surrounded by very welcoming wet meadows for many water birds. Three bird observatories allow the public to watch the birds without disturbing the environment:
1. Domaine du Vieux Moulin, nursing home of France's Paralysed Association (APF), the observatory is installed on the dike of the pond and to learn about the discovery of the birds. Nearby, a fixed panoramic telescope is available. A reading table also helps give some pointers.
2. On the north cornea of ​​the pond, an observation tower provides an interesting perspective on this wild part of the pond and offers a view on the reed beds. The wetlands trail passes by.
3. On the D131 between the villages of Haumont-Les-Lachaussée Lachaussée and a bird observatory located above the water offers a remarkable view of the pond and the Domaine du Vieux Moulin. This observatory is accessible to people with disabilities. A bicycle rack allows for easy parking without entering the environment.
Starting from the Domaine du Vieux Moulin, a discovery trail of wetlands (12km) lets go around the pond (Follow the signs for hiking). This landscaped route offers discovering the fauna and flora of the pond, rich forests and damp meadows which surround it. On the way, a bridge leads to the Old Oak several centuries old. In winter, before sunset, you can see the cranes returning to the dorm.

To maintain the ecological interests of the site, it has been a nature reserve classification Régionale.Une specific regulation applies to it. The Conservatory of Natural Spaces of Lorraine, site manager, developed in partnership with the Domaine du Vieux Moulin, owner of the pond, recovery missions and animations that can be found in the calendar of nature activities.
CENL
PnrL
PnrL
CENL -Benoit Paul
CENL-Benoît PAUL
RÉSERVE NATURELLE RÉGIONALE DE L'ÉTANG DE LACHAUSSÉE
Address :
Domaine du vieux moulin
55210 Lachaussée
Phone :