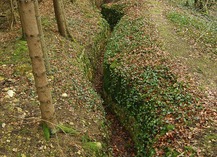 SAILLANT DE SAINT-MIHIEL
http://www.coeurdelorraine-tourisme.fr/decouvrir/14-18-le-front-du-saillant
The Saint-Mihiel Salient was formed in September 1914 when the Germans pushed forward more than 20 km beyond the French lines. It was the scene of bloody fighting and the landscape has changed little since then. It still has its French and German trenches.

The Tranchée de la Soif (Thirst Trench) in the Ally Woods, the Bavarians and Roffignac Trench, the Scorched Wood (Bois Brûlé) and Redoubt Cross (Croix des redoutes) are three platforms laid out with parking spaces and information panels. From them, you can see the French and German trenches, reminders of the violent conflict that took place here.
You can also see the cemetery and the German hospital.

Unrestricted access. Footpath and picnic areas.

Guided tours with advance booking.
SAILLANT DE SAINT-MIHIEL
55300 Saint-Mihiel
Phone :