BASE DE LOISIRS DU LAC DE MADINE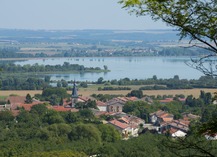 BASE DE LOISIRS DU LAC DE MADINE
http://www.lacmadine.com
Located right by the Cotes de Meuse and in the heart of the Regional Natural Park, Madine lake is comprised of a 1100 hectares lake, 250 hectares of forest and 42 kilometers of coast. The lake offers all the pleasures of nature, sport and leisure:
- Nautic base, horseback riding center, pleasure port, fishing, beaches with lifeguards in July and August.
- Little train to visit the area.
- Dirt bikes, tandems, mini golf...
- Rent carts, electrical boats, pedal boats, tennis, replica boats for kids.

Accommodation: 20 bungalows of 4 people (2 for handicapped people), 10 bungalows of 6 people, campings, hostel of 30 double rooms in Heudicourt.
CDT Meuse/Michel PETIT
Jan Vetter
Jan Vetter
Jan Vetter
Jan Vetter
BASE DE LOISIRS DU LAC DE MADINE
Address :
Maison de Madine
55210 Nonsard-Lamarche
Phone :
Spoken languages