Miss Belle Skinner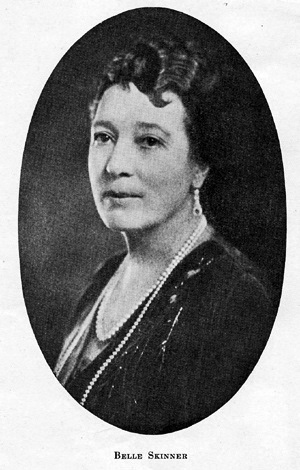 Belle Skinner, born Ruth Isabelle Skinner (1866-1928), was an American high-class lady and philanthropist whose influence on our region, notably Hattonchâtel, cannot be understated. Descendant of a highly successful silk manufacturer in Holyoke, Massachusetts, she became a benefactor in later life and shared her (good) fortune. After being in France during the First World War and seeing with her own eyes the utter destruction of her beloved country, Francophile Skinner felt the urge to help the people so desperately in need. She founded and presided the American Committee of 'Villages Libérés', an initiative amongst American cities in order to adopt French villages and to support them financially in their post-war reconstructions. She convinced her own city Holyoke to adopt Apremont-la-Forêt, where so many Massachusetts men had fought and were killed, and to aid restore its waterworks.
Belle herself adopted the village of Hattonchâtel, which was in ruins after the Great War, and she funded about 1 million dollars in its reconstruction, an extremely generous sum for the time. She wanted the village rebuilt like it was before the war and with her help the ancient castle, town hall, local school, library, several monuments and about twenty houses are being reconstructed, and running water and electricity are being furnished. The villagers adopted Belle in their hearts as well, and lovingly called her their village's Godmother. Reconstructions took up to around 1928, the same year Belle died, after contracting pneumonia. Many traces can still be found in the village that remind us of this remarkable woman, decades ahead of her time. Her generosity is well-honoured in the village and her story is being passed on over generations – and rightly so!
For her relentless efforts Belle Skinner was rewarded the Medal of French Gratitude in 1919 and, two years later, the Legion of Honour from the French government.