LES NUITS INSOLITES DE MADINE : LES BULLES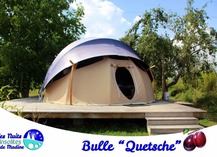 LES NUITS INSOLITES DE MADINE : LES BULLES
http://gites-madine-insolites-france.com
Just a few minutes away from Lake Madine and its many activities (beach, sailing, golf, aerial assault course etc.), sleep under the stars in a transparent bubble tent.
There are 3 bubbles on offer, each equipped with coffee maker, kettle and fridge:
- Cerise (40 sq. metres) sleeps 2 adults and 2 children (one double bed and a bed settee).
- Mirabelle and Quetsche (25 sq. metres each) sleep 2 people (double bed).
A breakfast hamper is supplied.
Shared washing and toilet facilities. Spa and swimming pool open to guests.
A cosmic, romantic experience that guarantees total relaxation!
Nuits insolites de Madine
Nuits insolites de Madine
Nuits insolites de Madine
Prices
Min
Max
Description
Two people (B&B)
100€
LES NUITS INSOLITES DE MADINE : LES BULLES
Address :
3 Chemin de Fauna
55210 Nonsard-Lamarche
Phone :